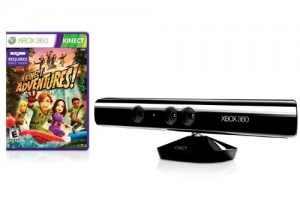 Welcome to the fifth day out of our 10 days of gifting (half way done!) – Today we have a Kinect Sensor with Kinect Adventures [Amazon]. This is the add on only, this DOES NOT include the xbox 360 – just gotta make this clear. This is by far the hit of the season for any video game fan. They're actually becoming a little hard to find in some neck of the woods.
Every day at random times we'll be announcing a giveaway – it'll only be for 24 hours! Also we'll be switching up how to enter to win the prize. You may be asked to comment on a facebook post over at http://facebook.com/dadarocks or to post&follow @dadarocks on twitter.com http://twitter.com/dadarocks or you may just have to leave a comment on the thread.
For today we'll pick one lucky winner that goes to Facebook.com/DaDaRocks and on the wall "I want to win the Kinect Sensor from DaDaRocks.com" then you must come back here and leave a comment that you've competed the mission at hand. or you can tweet "I want to win the #Kinect Sensor for @xbox thanks to @dadarocks over at http://bit.ly/fUGADM" and dont forget you must follow @dadarocks as well and come back to leave a comment with the tweet URL.
(remember in order to write on the wall you must become a fan!)
I'd also like to thank Microsoft for providing the prize — You'll also have 12 hours to claim this prize as the hopes it to have it shipped out first thing monday to make it under the tree for that lucky family.