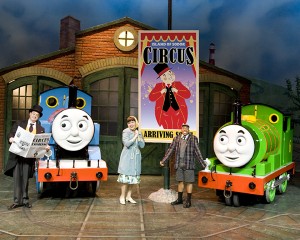 Thomas & Friends Live! On Stage is coming to the Theater at MSG on March 5 & 6 for six performances. Tickets go on sale to the general public on December 12th,  but we are extending an exclusive presale opportunity for Dada Rocks readers. The presale runs now until 10pm this Saturday, 12/11.
http://www.theateratmsg.com/tickets/promotion.html?p_id=DADAROCKS
More about the show:
Thomas and Friends Live! On Stage will be bringing Thomas the Tank Engine and the rest of his friends from Shining Time Station to The Theater at Madison Square Garden for two days only, on March 5th & 6th.
Join Thomas, Percy, Diesel and the rest of their friends as they work together to save the Magic Lantern Festival from a big storm rolling onto the Island of Sodor. Children will enjoy their favorite trains on stage, while learning lessons of friendship and cooperation.