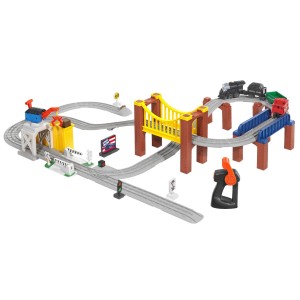 Lionel Trains have been a long standing favorite of mine for the holidays… I grew up going over to a family friend's house to see their amazing train collection. I mean amazing it took up over 800 square feet of their basement, it was amazing! fast forward to these days when I have a toddler and no desire for him to smash anything collectible or of value.  Lionel does a lot of amazing things for the holidays, they've gone around and created popup shops in a few select locations.
New York, NY – 1095 Avenue of the Americas at 41st St, New York, NY
Westchester, NY ( Westchester Mall) – 125 Westchester Ave., White Plains, NY
Cherry Hill, NJ (Cherry Hill Mall) – 2000 Rt. 38, Cherry Hill, NJ
Minneapolis, MN (Mall of America) – 60 Broadway St. NE, Minneapolis, MN
Dallas, TX (Trains at North Park) – North Central Expressway at Northwest Highway, Dallas, TX
To sell awesome trains, collectible pieces, tracks, and — wait for it — they're newest items like the Lionel Little Lines… To me this is the perfect my first train set for any toddler it offers you controls for forwards and backwards. It adds some really nice imagination play items to the mix likes a switch, a crane, and some bridges.
If you're not lucky enough to live in a local popup shop area check this one out  if you use coupon code DADAROCKS (all caps) its good for 10% off sitewide from 11/24-12/6 at lionelstore.com
Lionel's wide varieties of train sets are great for both the little kids and the little kids at heart.
For ages 2.5 and up there is the Lionel Little Lines ($59.99). This starter train set comes with a snap together track and a simple remote controller for forward and reverse movement making it easy for little hands to operate. Authentic train sounds and details make it a classic Lionel product.
One of Lionel's many licensed train sets is the Thomas and Friends ($199.99) train set and it is the perfect gift. This exciting TV character themed train set comes with forward, neutral and reverse controls, interchangeable faces for the train, over 10 different track section pieces and an electronic whistle.
The Polar Express movie was a favorite of kids of all ages and now Lionel brings the train to life with The Polar Express Deluxe Playset ($89.99).  A four-car train with amazing Polar Express details traveling across a snow covered track making a journey that replicates the one from the movie and book.  With curves and ramps and chuffing train sounds, this complete playset is sure to delight the entire family.
There is a kid inside all of us and for the grown ups in the family there is the Pennsylvania Flyer ($229.99), Lionel's signature train. This starter set features forward, reverse and neutral controls, realistic air whistle, operational headlights, puffing smoke unit, traction tires and classic oval track.
TWO Winners will get Lionel Little Lines Train Playset
How to win it… Contest ends 11:59pm EST. December 7th 2010.
You must comment telling us which train is your favorite (hint: visit lionelstore.com for train names)? please include some method for us to contact you in the comment (twitter or email)
You get 1 extra entry for following us on twitter – twitter.com/dadarocks
You get 1 extra entry for tweeting about this contest (you can do this daily). Must contain the following information:
#lionel @dadarocks – http://bit.ly/f0GHip and you must also comment with the link to your twitter message.
Example: I win a #lionel train set from  @dadarocks – http://bit.ly/f0GHip
You get 1 extra entry for becoming a Fan on facebook – facebook.com/dadarocks you must comment that you're a fan
You get 1 extra entry for subscribing to our Feedburner digest mailing (right side subscribe by email) – you must also comment that you've subscribed
You get 1 extra entry for becoming a friend on Google Connect (right side below facebook box) – you must also comment that you've become a friend
You will have 12 hours to reply before we pick another winner!

Disclaimer: Lionel is providing the trains for the prizes.