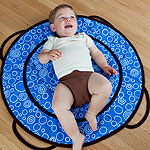 When you're walking around babies r us looking at the changing tables you never think that far into the future… you're not thinking two years down the line.  When you're little newborn is now a toddler who still needs to be changed, for us being that he's in the 90% of height and 85% in weight (can you tell he went to the doctor today) that he might out grow the thing.
Luck would have it at a Big City Mom [Link] event I met Grace the creator of the Patemm Pad [Link]. First this was like as if the universe knew we had been looking for something since we had stopped changing marc on the changing table we moved him to a bed that is located in his bedroom which was good for the size but the issue was the… hmmm… leakage… hmm… his reaction to being in the air…usually trying to pee on me,,,lol… so we had towels under him that we changing daily – in comes the Patemm Pad.
The Patemm Pad is amazing, not only are the designs awesome truly classic and tasteful.  The pad is waterproof and still feels good to the touch, the size of the pad is perfect for a toddler. The kicker is we've rarely taken it off the bed but this is designed to be a on the go device that you can hold wipes and diapers and use it on your travels too which is great for kids since many want that consistency of feel.
Beyond the changing pad idea – it works great to remove a wet baby out of a tub and let them dry off without ruining the sheets. We really use this over 10 times a day. I wish they made these in an adult size for a picnic area blanket. 100% cotton/machine-washable only denim patemm pad. A great unisex pad print/style. mom-invented, patented, eco-friendly, and award-winning. PVC, lead, phthalate, latex, and formaldehyde-FREE, laboratory and parent tested and PROUDLY made in the USA!
I would highly recommend this as a purchase for yourself or as a gift.
How to win it… Contest ends 11:59pm EST. September 22, 2010.
You must comment telling us your favorite color/design of pad from their website [Link], please include some method for us to contact you in the comment (twitter or email)
You get 1 extra entry for following us on twitter – twitter.com/dadarocks
You get 1 extra entry for following Patemm Pads on twitter – twitter.com/PatemmPads
You get 1 extra entry for tweeting about this contest (you can do this daily). Must contain the following information:
@patemmpads @dadarocks – http://bit.ly/dfUu41  and you must also comment with the link to your twitter message.
Example: I want to win a @patemmpads from @dadarocks – http://bit.ly/dfUu41
You get 1 extra entry for becoming a FAN on facebook –facebook.com/DaDaRocks you must comment that you're a fan
You get 1 extra entry for becoming a Fan on facebook of patemm pad – facebook.com/patemmpad you must comment that you're a fan
You get 1 extra entry for subscribing to our Feedburner digest mailing (right side subscribe by email) – you must also comment that you've subscribed
You will have 24 hours to reply before we pick another winner!
Disclaimer: patemm pad is providing the prize and I was provided with a sample for review (which I loved!)