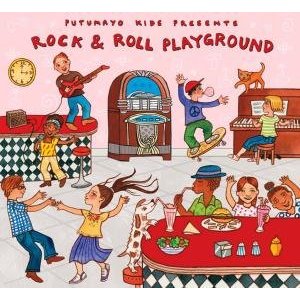 PUTUMAYO KIDS CELEBRATES THE RELEASE OF ROCK & ROLL PLAYGROUND WITH CONCERT BY FEATURED ARTIST STARFISH ON JUNE 19th
Rock & Roll Playground CD Due Out June 29th [Amazon]
Award-winning children's music label Putumayo Kids will celebrate the June 29th release of its newest CD, Rock & Roll Playground [More Information], with a concert by featured artist StarFish June 19 at the Scholastic Auditorium.
The five life-long musicians from New Jersey known as StarFish are featured on Rock & Roll Playground in "The StarFish Stomp." Inspired by good old-fashioned classic rock, the band gives parents the opportunity to share a real rock concert experience with their children. According to Cookie Magazine, they "continue Jersey's tradition of"totally boss rock acts. Nothing about any of it screams 'kids' music.' Yet the same fans who dance to Dora the Explorer somehow rock out to StarFish too."
Putumayo Kids will also host an online "Air Guitar Video Contest," beginning June 15th and running through August 1st. Parents can visit www.putumayokids.com to submit videos of their children playing air guitar to "The Starfish Stomp" for the chance to win an in-home concert with Ray Leone, the founder and lead guitarist of StarFish. A free mp3 download of the song will be available on the website. Second and third place winners will receive a prize package of five Putumayo Kids CDs.
Rock & Roll Playground is a tribute to the early history of rock 'n' roll and features music by a stellar group of established and up-and-coming artists, from Grammyâ Award winners Dan Zanes and Friends to rockabilly royalty Rosie Flores. Widely recognized as one of the most innovative children's music labels in the United States, the award-winning Putumayo Kids is committed to introducing children to different cultures through fun, upbeat collections of music from around the world. For more information visit www.putumayokids.com.
WHO: StarFish
WHEN: June 19, 11:00 A.M.
WHERE: Scholastic Auditorium, 557 Broadway, NYC
COST: Admission is free, reservations required. Email them at [email protected] to reserve your spot today! Include your name, telephone number and tickets needed.