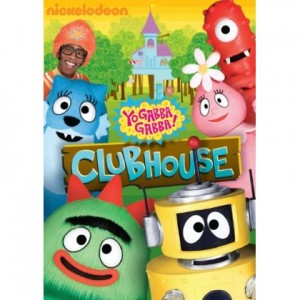 Get ready to dance and sing – just say the magic words "Yo Gabba Gabba!" Join Muno, Foofa, Brobee, Toodee and Plex as they build an awesome clubhouse; travel through the jungle on a wild adventure and play with silly animals in the all-new Nickelodeon DVD release Yo Gabba Gabba!: Clubhouse. The DVD features performances by musical guests Erykah Badu, The Killers, Jimmy Eat World and more.
Yo Gabba Gabba!: Clubhouse
Release Date: June 15, 2010
Price: $16.99
DVD Running Time:  Approximately 96 Minutes
Buy it from Amazon.com
Episode Synopses:
Clubhouse
Brobee and Muno build a boy's clubhouse but won't let Foofa and Toodee play.  Meanwhile DJ Lance and Plex help Foofa and Toodee build an awesome treehouse where they allow everyone to play.
GUEST STARS:  Erykah Badu, The Sounds, Mark Mothersbaugh
Adventure
Muno and friends go on an Indiana Jones like adventure!  They travel through a jungle under Gabbaland and find the golden treasure.
GUEST STARS:  The Killers, Mark Mothersbaugh
Summer
All the characters in Gabba Land use the outdoors and friends to capture the happiness of summertime. In "Bubbles", "Summertime", and "Jumpy Jump" all the characters have fun doing different outdoor activities. Then as all the characters have a pool party they learn to take turns on the slide in the "Wait your turn" song.
GUEST STARS: The Aquabats
Animals
Foofa loves animals and she tracks an animal to find out about it.  The Gabba gang also discovers some silly animals that only could be found in Gabbaland.  Foofa teaches how to care for a pet friend or plant friend and becomes queen of the animals. 
GUEST STARS:  Jack McBrayer, Paul Scheer, Jimmy Eat World, Mark Mothersbaugh
How to win it… Contest ends 11:59pm EST. June 10th, 2010.
3 Lucky people will win the Yo Gabba Gabba DVD Clubhouse! Tell us your favorite character or guest on Yo Gabba Gabba and please include some method for us to contact you in the comment (twitter or email).
You get 1 extra entry for tweeting about this contest (you can do this daily). Must contain the following information: @NickJrDVD @dada_rocks – http://bit.ly/cEEnJD and you must also comment with the link to your twitter message.
Example: I want to win the @yogabbagabba clubhouse DVD from @dada_rocks & @NickJrDVD – http://bit.ly/cEEnJD
You get 1 extra entry for following us on twitter – twitter.com/dada_rocks
You get 1 extra entry for following @NickJrDVD on twitter – twitter.com/NickJrDVD
You get 1 extra entry for becoming a FAN on facebook –facebook.com/DaDaRocks you must comment that you're a fan
You will have 24 hours to reply before we pick another winner!
Disclaimer: NickJrDVD provided the DVD for this raffle