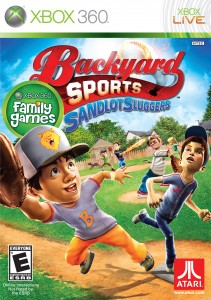 I was invited by Atari to check out Sandlot Sluggers which joins one of the best selling kids' sports video games Backyard Sports.  In an all-new action packed baseball game, Sandlot Sluggers.  Now you can join your favorite Backyard Sports neighborhood friends and play ball in fun and exciting arcade style sports action.  Sandlot Sluggers is packed with new features, enhanced gameplay, and extensive customization options that will keep you enthusiastically entertained.  Sandlot Sluggers is the next evolution of Backyard Sports games and will keep you on your feet with non-stop fun and excitement.
Non-stop action with arcade-style take on baseball, offering up instant playability, comedic commentary, exaggerated animations and turbo-injected gameplay for a one-of-a-kind experience
Feature-rich with multiplayer tournaments, mini games, season mode, quick play and an all new story mode setting, never seen before in a kids sports game
Packed with comic scenarios, kid-style tricks and surprises to keep kids coming back for more
Starring a neighborhood full of fun and diverse kids – both fan favorite characters and new friends
Super charged power-ups with a twist take the excitement to the next level
Stunning visuals bring colorful and new settings to life making gameplay feel authentically real
I had a chance to play the Wii version which of course give you motion controls… Which makes it a super fun game but on the Xbox 360 version you get kick as graphics.  The game translates really well on both platforms and has been so much fun to play (even after the kiddo goes to sleep).
Looking forward to see more games in the Backyard sports series… still crossing fingers for a kickball/dodgeball game!
Platforms: Xbox 360®, Wii™, Nintendo DS™, PC Download
Release Date: May 25, 2010
Developer: HB Studios
Publisher: Atari, Inc.
ESRB Rating: E for Everyone
SRP: $29.99 Xbox360, Wii, DS and PC Download
[nggallery id=5]

How to win it… Contest ends 11:59pm EST. June 4th, 2010.
Win the Backyard Sports: Sandlot Sluggers for Xbox 360 or DS! Tell us your favorite position in baseball (I loved playing 3rd base and shortstop growing up), which version you want to win and please include some method for us to contact you in the comment (twitter or email).
You get 1 extra entry for tweeting about this contest (you can do this daily). Must contain the following information: @dada_rocks – http://bit.ly/a7nxGE and you must also comment with the link to your twitter message.
Example: I want to win the @backyardsports game @sandlotsluggers from @dada_rocks – http://bit.ly/a7nxGE
You get 1 extra entry for following us on twitter – twitter.com/dada_rocks
You get 1 extra entry for following Sandlot Sluggers on twitter – twitter.com/sandlotsluggers
You get 1 extra entry for following Backyard Sports on twitter – twitter.com/backyardsports
You get 1 extra entry for becoming a FAN on facebook –facebook.com/DaDaRocks you must comment that you're a fan
You get 1 extra entry for becoming a FAN of Backyard Sports on facebook –http://www.facebook.com/pages/Backyard-Sports/218785148571 you must comment that you're a fan because of DaDa Rocks
You will have 24 hours to reply before we pick another winner!
Disclaimer: Atari is proving the raffle prize along with the sample game used for the review!