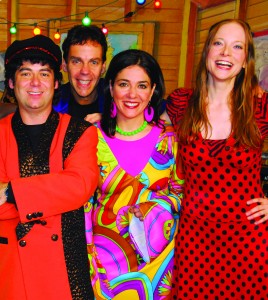 Giveaway is for 2 – family 4 packs of tickets!
Irving Plaza HOUSE OF KIDS on May 15th, at 10:00AM
Purchase tickets [Link]
The music of the Dream Jam Band is inspired by a spirit of wonder and curiosity. Through invigorating kid and family-friendly songs, their unique style reflects the belief that young children are endowed with a capacity to synthesize musical ideas, enhancing learning in all areas.
The DJB members, Francine, Barry G, Maestro C, and Erin the Red are entertainers as well as music teachers. Formed in New York, the band achieved rapid national success. Their eponymous first album Dream Jam Band featured eleven original songs, two of which, "Nicky Nicky Knock Knock" and "Look Around" reached Number One at SiriusXM satellite radio. The album was named to the Top Ten List of National Public Radio's best Children's and Family Albums, and also won four Children's Web Awards and received extensive airplay on kids' programming across the USA.
The band has also toured extensively, playing throughout the northeast and as far west as Steamboat Springs, Colorado. They were a headline attraction at Kidzapalooza and Taste of Chicago, and packed the famous Ohio Theater at Cleveland's Playhouse Theater complex. The Dream Jam Band have been featured on PBS Sprout and was the sole musical entertainment for their three-hour live television special, Chica's Big Birthday Surprise.
The DJB is now launching their second album, Leave it in the Soup, and debuting a new stage show which the band will premier at a two-day event at the International Children's Festival at the Ohio State Theater. The band then travels to the House of Kids at Irving Plaza in New York City, and will continue touring through the summer and fall.
The Dream Jam Band is a musically prolific powerhouse that writes original, engaging and intelligent children's songs. The talent of the collective members includes proficiency with over twenty musical instruments, and their positive lyrics and infectious tempo bring all members of the family to the party. All songs are written by the band and feature sophisticated productions of full-blown modern tracks and encompass a broad range of influences, from The Beatles to Mozart, Duke Ellington to Woody Guthrie. Produced by award winning songwriter and producer Rick Chertoff (Cyndi Lauper, Joan Osborne, Ron Howard's The Grinch) the music spans the spectrum of rock, pop, blues, hip hop, sing-a-longs and classical.
The Dream Jam Band is a harmonious adventure perfectly suited for the tastes of children and their parents. So be prepared for a melodic stew, musically contagious and rhythmically sagacious, cooked for a craving of cool and an appetite for fun. With several new projects up their collective sleeves including a book collaboration with noted children's illustrator Mark Braught, and the upcoming release of the album Barry G and the Dream Jam Kids, look for more musilogical projects as the Dream Jam Band are just getting started.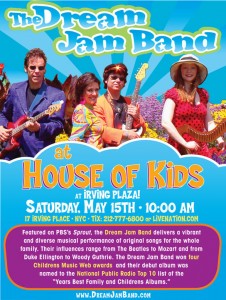 How to win it… Contest ends 11:59pm EST. May 13, 2010.
You must comment telling us why you want to win the tickets please include some method for us to contact you in the comment (twitter or email)
You get 1 extra entry for following us on twitter – twitter.com/dada_rocks
You get 1 extra entry for tweeting about this contest (you can do this daily). Must contain the following information: Dream Jam Band tickets from @livenation & @dada_rocks – http://bit.ly/aoYTrQ and you must also comment with the link to your twitter message.
Example 1: I want to win ticket to Dream Jam Band from @livenation & @dada_rocks – http://bit.ly/aoYTrQ
You get 1 extra entry for becoming a FAN on facebook –facebook.com/DaDaRocks you must comment that you're a fan
You get 1 extra entry for becoming a FAN on facebook –facebook.com/pages/The-Dream-Jam-Band/94050383679 you must comment that you're a fan
You get 1 extra entry for subscribing to our Feedburner digest mailing (right side subscribe by email) – you must also comment that you've subscribed
You will have 12 hours to reply before we pick another winner!

Disclaimer: Tickets for this raffle are provided by Live Nation.