Here is your quick recovery list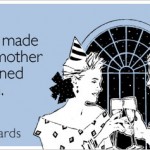 …
1) Get a card ASAP! cant get out of the house check out below for the "just print one at home" It is at the bottom of the post, just print it out sign your name (and your kids name too).
2) Get a gift ASAP! price isn't the object here its the idea and thought that counts right? Maybe for you – for me I need to have something insightful and then something useful… Starbucks giftcard (useful) and an new iPhone Case (useful since she needs one that glows in the dark at this point :P).
Can you say your gift is in the mail? Sure, but it better be a damn fine gift… Here are some quick suggestions Jewelry from Tali Gillette [Link] she's got an amazing MAMA necklace. What about photography setup a session with Suzanne Cohen Photography [Link] she'll capture this moment in time for your family. Gift Cards to a Spa – you know she's working 24/7 to keep the family happy the best gift is a few hours off and someone pampering her! Let her shop – retail therapy is a real thing! Drop a gift card to her favorite shop – cant pick just one try getting a gift card to an entire mall or try a prepaid AMEX or VISA.
3) Its her day give her whatever she wants/needs/deserves most of all remember what you do today will come back to you in a month when all you'll want is a 12 pack of cold beers and a ball game on TV (maybe a BBQ with the family at the end).
4) Break out of the routine – while keeps everything moving forward it – it also makes it feel same old/same old – try something new – try something different. If nothing else is a story, but you might just find that you get a little glimmer back in her eyes that there is life post kids.
That's it! Here's the card that you can print out in case you're really locked up at home!