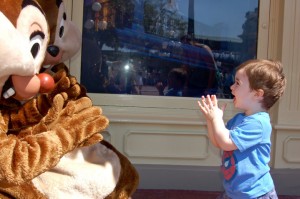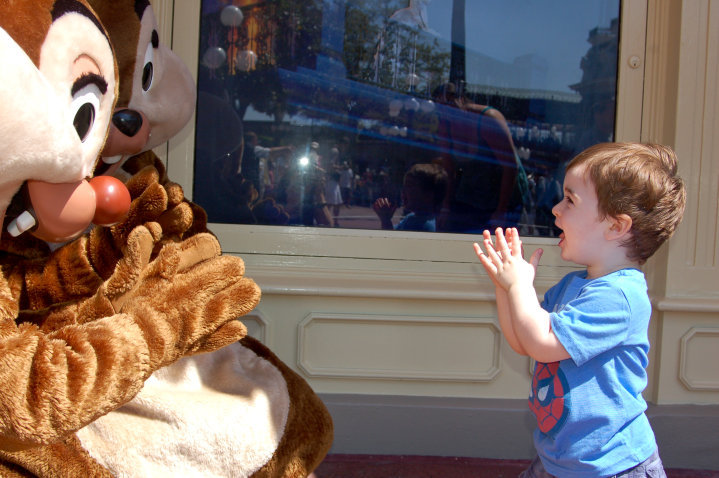 We did it! We survived it! It was totally worth it!
Disney world's Magic Kingdom is an awesome place it for me brings memories of my childhood as I imagine many of you.  Yet, 20 years later its still amazing and awe-inspiring.
We stayed at the DoubleTree which was on Disney World property which included bus service to and from the park.  If I had to do it again I would have driven to the park. The bus service came once an hour some where between 30-45 after the hour, it would stop at 5 other hotels before our and then head right to the park. Going to the park via the bus was OK, but it was getting home at night that was terrible! First they take you from magic kingdom to another property (say Epcot) then to the first 5 hotels about an hour later you get back to the hotel (uggg). Lesson learned pay the $15 and park using the shuttle bus service (which is SUPER SUPER FAST!).
When you arrive at the park you're in the middle of nowhere – its just the entrance to the monorails and to where you purchase tickets. Once you figure out the most effective tickets, pre-plan your trip if you're jumping from Magic Kingdom to Epcot or just staying at one park (there is a price difference) you'll move to the monorails.  The monorails in my mind used to be cooler but I guess when I was a kid I wasn't jaded by a subway system that moves 8 million people a day.  Marc still loved it!
Getting to the park you're asked to use a finger print scanner (don't remember that being there when I was a kid) but once you're past security. It's go time! You're on Main Street – something that's straight out of a small town in the 1800's maybe early 1900's I'm not even sure but you'll still find the Dapper Dan's Barbershop Quartet performing. Once you walk down main street you see the castle.  Its pretty amazing and looks bigger then I remember.
We picked a direction after a few oops and wrong ways, we finally head towards the rides. I'm pretty sure the first was It's a Small World, which Marc loved!  We did the Cinderella's Golden Carousel which was great both Marc and Suzanne loved being on the ride. We were able to take him on Peter Pan's Flight, Buzz Lightyear's – Spin, Carousel of Progress (which really didn't work out well nor is it updated to be current anymore), Mad Tea Party, Dumbo the Flying Elephant, Mickey's Railroad, Pirates of the Caribbean, and the Tomorrowland Speedway.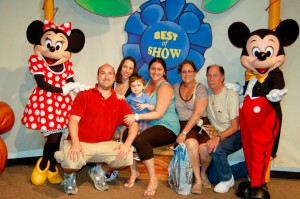 We did go to the park with extended family my sister, step father and mother were there too. Which made going on adult rides while Marc napped a piece of cake.  We got to do Space Mountain, Big Thunder Mountain, and Splash Mountain.
In our time there we had two sit down lunches at Liberty Tree Tavern and The Plaza Pavilion.  Both were enjoyable but took time away from waiting on lines or seeing a parade/show.
We did as much a family could in the two days we spent at Magic Kingdom and my great fear of Marc being scared of the characters was totally put to rest early on. He was slapping high fives with Chip and Dale right from the get go.
Overall its still a vacation that requires a family to save more then just a few dollars but its well worth it! The memories we created will last a lifetime and I'm very happy to have gotten the chance to do the kids sections with Marc and the adult rides with my wife (and sister and stepfather when they joined us).
[nggallery id=2]