GRAMMY® NOMINATED BAND ROCKS OUT FOR FAMILIES HOUSE OF KIDS SERIES – APRIL 17
WIN 4 TICKETS TO THE SHOW [Raffle rules below the video]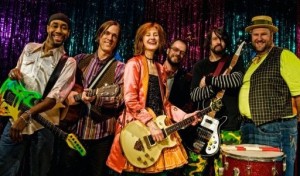 The groundbreaking Baltimore rock band for kids, Milkshake, will make a rare Manhattan appearance celebrating the group's recent GRAMMY® nomination for its 2009 album, Great Day. Milkshake will rock out for families with a high energy, surprise-filled performance on Saturday, April 17, at 10:00 a.m. as part of the House of Kids Series at The Fillmore at Irving Plaza, 17 Irving Plaza, NYC.
Milkshake is familiar to millions of American households through the band's colorful, energetic music videos, seen on PBS KIDS, NICK Jr., and DISCOVERY KIDS. Milkshake's live concerts, described by the Baltimore Sun as "a little like magic," bring the same happy, rocking energy onstage to fans across the country.
Taking a cue from the Beatles, Pretenders and Weezer, among others, Milkshake is much more than just a band for kids. An energetic departure from traditional children's music, the members of Milkshake have transitioned from an adult audience to a younger crowd without compromising stage presence, musical integrity, or rock 'n' roll spirit. At this show, which represents Milkshake's debut at the renowned rock venue, Irving Plaza, the band is sure to have families air guitaring, air drumming, and singing at the top of their lungs.
Milkshake started in 2002 as a musical experiment. Founding members Lisa Mathews and Mikel Gehl longtime bandmates from Baltimore's indie rock group Love Riot, vowed to "grow" their music right along with their own young children. Since then, Milkshake and its legion of fans have been living an exciting, real-life, growing up adventure, moving from early childhood through the early elementary years, as the group toured the country and produced four multi-award-winning CDs, a DVD, and a multitude of music videos. Along the way, as the kids grew and the music grew with them, Milkshake grew from a duo to a six-piece band, all of whom are veterans of adult indie rock groups.
Notes Milkshake's Lisa Mathews, "In the last year or so we've noticed an amazing thing: the kids who started listening to us as babies are still right there with us today — in effect growing with the band as the band has grown with them! The songs on our GRAMMY-nominated album, Great Day, touch on issues of friendship, inclusion, family, self-esteem, goals, and material desires – issues that really matter to a 6 – 10 year old. Like all Milkshake CDs, the music really transcends age, and we've found that both younger and older fans are really enjoying this new material, on disc and in our live performances. We're thrilled to be able to share these songs at The Fillmore — a historic rock venue that reflects our sensibilities!"
Baltimore Magazine declared, "Hip parents who like music will absolutely thrill to Milkshake." Kenny Curtis, Sirius/XM Radio's Director of Specialty Programming, calls Milkshake as "an amazing band whose songs are conceptual and fully thought-out pieces of music." Known for their pop-rock style that fairly crackles with energy, Milkshake is perhaps the most interactive rock band for kids, playing baseball and sprinkling sunshine and fun throughout their performances. Kids come to Milkshake shows with toy and homemade instruments and get caught up in "Milkshake-mania," going bonkers along with the band. Wrote Paste Magazine, "Overflowing with energy and enough stylistic chops to move convincingly from rockabilly to jangle-pop, these tunes will make fans of the whole family." Cookie Magazine affirmed, "To appeal to their audience, they don't dumb down the music – they just play it straight. The results are entirely enjoyable."
In addition to the GRAMMY-nominated album, Great Day, Milkshake has released three critically acclaimed, multi-award-winning CDs – Happy Songs, Bottle of Sunshine, and PLAY! – as well as a Parents' Choice Silver Award-winning DVD, Screen Play!, a joyous mix of MTV-like videos, animation, in-concert videos and cool bonus features, including interviews with the band and a pair of videos featured on PBS KIDS. The band even found inspiration and time to create their own comic book, featuring Milkshake as superheroes.
The House of Kids series is aimed at bringing parents and kids together through the shared appreciation of live music. In addition to Milkshake, the April 17 show will feature performers from the Big Apple Circus, storytellers, child performers, and more.
Show information
WHAT: Milkshake Rocks the House of Kids!
WHERE: The Fillmore at Irving Plaza, 17 Irving Plaza, NYC
WHEN: Saturday, April 17th. 10:00 a.m.
TICKETS: $20. Under age two, free.
1- 800-745-3000. www.livenation.com Tickets also available at The Fillmore at Irving Plaza box office, noon – 6:30 p.m.
INFO: (212) 777-6800. www.houseofkidsnyc.com
How to win it… Contest ends 11:59pm EST. April 4, 2010.
You get 1 entry for placing a comment your favorite kiddie rocks song is and please use some method for us to contact you in the comment
(twitter or email)
You get 1 extra entry for following us on twitter – twitter.com/dada_rocks
You get 1 extra entry for tweeting about this contest (you can do this daily). Must contain the following information:
Milkshake's @dada_rocks – http://bit.ly/anLoJG  and you must also comment with the link to your twitter message.
Example: I want to win Milkshake's tickets from @dada_rocks – http://bit.ly/anLoJG
You get 1 extra entry for becoming a FAN on facebook –facebook.com/DaDaRocks you must comment that you're a fan
You get 1 extra entry for becoming a Fan on facebook of the Milkshake's– facebook.com/milkshakeband you must comment that you're a fan
You get 1 extra entry for subscribing to our Feedburner digest mailing (right side subscribe by email) – you must also comment that you've subscribed
You will have 24 hours to reply before we pick another winner!
Disclaimer: LiveNation is providing these tickets for the raffle.