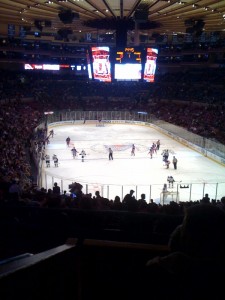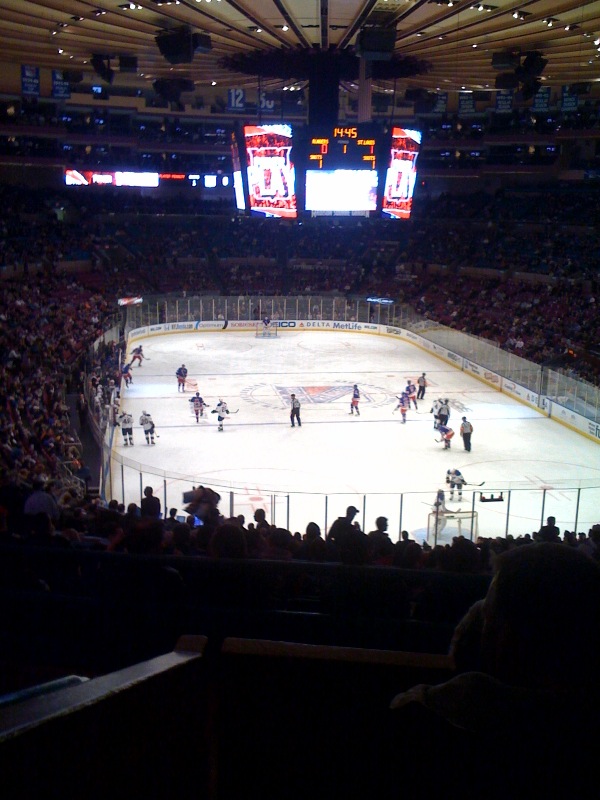 Today was a big milestone for Marc it was his first major sporting event.  He loved it (at least I'd like to think so)… Marc is now 19 months old, we didn't do baseball with him last year because he was a little young. We've taken him over the last year to a few live shows/concerts and he seemed to liked them.
I finally said its time pulled the pin and took him a major sporting event! The best part is that it was at Madison Square Garden (MSG).  Ok I hear my Yankees & Mets fan getting upset already… but to me I have a ton of memories from watching the islanders play against the rangers as a kid being taken to MSG for games or the circus (which is coming soon!).
Sure the seats where in the 300's but it wasn't about watching the game and we didn't stay for the whole game made it in to the very end of the second period.  It was the fact that Marc sat on my lap watched the Rangers while eating bites of a hotdog.
This summer we've got big plans together… I haven't been to either of the new baseball stadiums in New York (Yankees or Citi-field) we will be going to both.  This is just the start of the memories of major milestones in Marc's sporting history but it will be a great beginning and will make for great stories.
In advanced (and a little belated) to the people we seat behind, I'm sorry that Marc will at some point accidentally kicks you in the head. I kid… I kid…