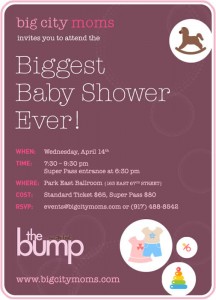 Big City Moms [Link] is a wonderful group in the city.  For my family its given us a play dates for Marc, before that support in that expecting phase, community, and friendships.  When Marc was younger we would do two to three Big City Moms events per a week.
The Biggest Baby Shower Ever! is a twice yearly event that is awesome.  It is a who's who of companies with products and services to market and inform the soon to be moms.  This event was one of the best events for our family, although at the time I was asked to say home – I really really wanted to go.
Since Marc's birth the Shower has grown and in a way its has changed.  Now there are a few expecting Dads to be found at the event! Which is so awesome! This is a great – think of it this way, would you go shopping for a car alone? probably not, so go to the shower ask your stroller questions, ask me your questions – I'll be there!
In some ways this is the final stage to prepping for a baby. It is massive baby expo, it spans dozens of brands. Hundreds of products on display. If you have questions the reps will have the answers.
The swag is great! The raffles are amazing! The friendship and connections that are made at the shower is out of this world.  It is also just a great event to go with your girl friends and shop for the latest and great baby gear.
Each Friday between now and April 9th we'll randomly pick one winner who will receive free admission into the shower.
How to win it… Contest ends April 9th.

You get 1 entry for placing a comment with you're favorite brand that will be at the shower [Visit their site for others] and please use some method for us to contact you in the comment (twitter or email)
You get 1  extra entry for tweeting about this contest (you can do this daily).  Must contain the following information:  @BigCityMoms @dada_rocks –  http://bit.ly/9mSDRP and you must also comment with the link to your twitter message.
Example:  I want the @BigCityMoms Baby Shower Pass from @dada_rocks – http://bit.ly/9mSDRP
You get 1 extra entry for following me on twitter – twitter.com/dada_rocks
You get 1 extra entry for becoming a FAN on facebook – facebook.com/DaDaRocks you must comment that you're a fan
You get 1 extra entry for subscribing to our Feedburner digest mailing – you must also comment that you've subscribed