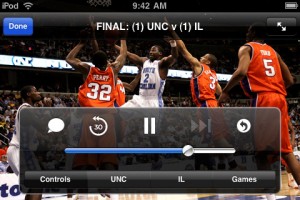 March Madness is here [screaming fans sounds] its been a pretty good college basketball season and the tournament is going to be great this year! Stayed tuned as I'm hosting a DaDa Rocks tournament bracket, but today we're talking about the how to watch the games at work, on the go, at your friends kid's birthday party, and even in the bathroom (TV in the bathroom is perfection) with the CBS Sports NCAA March Madness On Demand app [iTunes]
The best part of all the changes in AT&T made it so that it doesn't require a Wi-Fi connection to stream live games. Now you can watch over 3G or even EDGE.
The app is a little pricey at $9.95 but what would it cost to loose your job from sitting at the bar all day watching the games.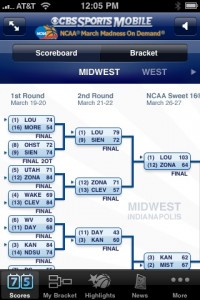 I had this app last year loved it although wasn't crazy about the limited Wi-Fi but now having this be on 3G I cant wait, I'll be taking the bus home from work which should add some quality game time to my commute home.