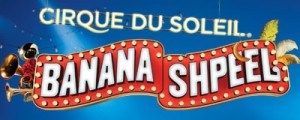 Cirque du Soleil – Banana Shpeel [Link]
Cirque du Soleil Brings a Whole New Shpeel to the Beacon Theatre! Be the first to experience this brand new production featuring the artistry of Cirque du Soleil!
Don't miss the World Premiere of Banana Shpeel, from Cirque du Soleil, with performance styles inspired by vaudeville that blends comedy with tap, hip hop, eccentric dance and slapstick, all linked by a hilarious narrative that ignites a succession of wacky adventures. This is not circus, or a musical or a variety show, or even vaudeville. It is Banana Shpeel!
Propelled by crazy humor and intense choreography, Banana Shpeel plunges us into the world of Schmelky, a brash, ambitious producer who is trying to put together a spectacular variety show. His world is populated with sidekicks, dancers, singers and novelty acts – and a trio of badly-behaved clowns who crash the auditions spreading chaos in all directions.
Only 3 weeks until the show begins on February 25! Buy tickets now and save 35%* on all performances through March 31! Use Code EMPEEL to buy your tickets today!
Join us on February 10, from 5 PM – 7 PM, for an Open House and Welcome Event! The beautifully restored, landmark Beacon Theatre opens its doors to the public to offer a behind-the-scenes look at its newest resident, Banana Shpeel! Watch rehearsals in progress, meet and mingle with the artists in the show, take a close-up look at the stunning costumes and eclectic make-up. Also, help yourself to a tasting from surrounding restaurants and bakeries! You will not want to miss this very special event!
The Beacon Theatre is located on at 2124 Broadway just North of 74th st, 2 blocks from the 1,2,3 Train, 72nd St Station.

*Offer valid on all performances thru March 31, 2010. Offer not valid on premium, lower or upper balcony seats or performances after March 31. 8 ticket limit per order. Service charges apply to phone and Internet orders. Offer subject to availability and not valid on previously purchased tickets. All sales are final – no refunds or exchanges. Offer may be revoked or modified at any time without notice. Offer expires March 24, 2010.