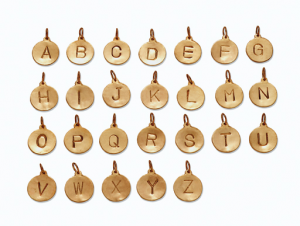 My wife is an amazing woman, she cleans, she cooks, she takes care of our son, she is starting her own business – Suzanne Cohen Photography [Link] and once in a while she takes care of me (I'm joking all the time!).  My feeling about buying gifts for my wife is only the best of whatever she wants.  Here is a list of items that I've either given to her with great success or that she's been asking for (she's got great taste and can really trend too).
Jewelry – Helen Ficalora [Link] best known for her charms (image to the right) she's been featured in Lucky Magazine and pretty much every other celebrity mom.  My wife has a couple of charms at this point an M for Marc (our son), a cut out star, a crown and a small puffy heart.
Perfume – Crystal Noir by Versace [Link] is up in the air against Stella by Stella McCartney [Link].  Now I don't think that I even have to say this but everyone's taste in perfume will be different.
Travel – One of the best ideas is to get away. While many think thats just crazy, if you do the simple math of fancy dinner, gifts, and headaches if anything goes wrong try an all-inclusive vacation.  You could find short trips at a very amazing price (plus its a gift to yourself!). Check out "Cancun OR Riviera Maya Last Minute Steal!, Airfare, 6 Nights, All – Inclusive Beach Resort $349 [Link]" from TravelByJen.com [Link]. Jenny is my step-sister, she travels all the time with her family of 6 – knows all the spots and I book all my travel with her!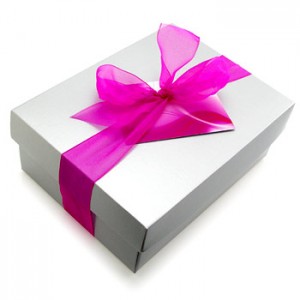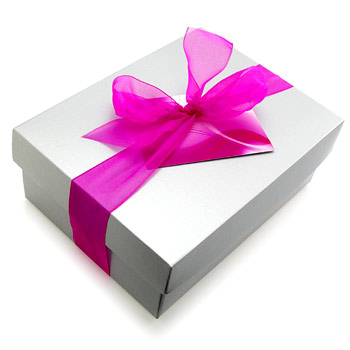 Electronics – Everyone is talking about the iPad (which isnt out yet) so you could get over to Apple and purchase a giftcard to cover the new item.  You could opt for an ebook reader like the Kindle DX (9.7 inch screen) [Link] or the smaller Kindle (6 inch screen) [Link]. Which will save a ton of space/weight when traveling. You could get a Flip Video Camera MinoHD 120minutes [Link] which makes video capture just one button (we own 2 both sets of parents own one too – love them!) they download in a second and make emailing videos a super simple process.
and finally I wouldnt be doing my job as a husband without offering the idea of…
Photography – These moments don't last for a lifetime but photography does. Take a look at Suzanne Cohen Photography [Link] and perhaps think about signing up for a session.