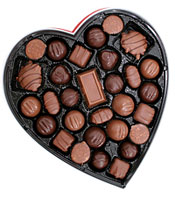 I'm not sure about you but Candy is a must have on Valentine's day. Seriously, If my wife doesn't get an unhealthy amount of chocolate someone is going to get it (and by that I mean death and by someone I mean me).
The historical chocolate in the heart can be found at any drug store in America.  Yes, its lame in a kind of cheesy way its so over done way.
You could step it up and go with a gourmet Chocolatier such as…
You could go the mall route with a premium chocolate maker such as…
And if you're really feeling special Hersey's M&M's that you could personalize (with images) [Link]
If you're not a coconuts for coco (get it?!) then you could head to your local bakeshop for the latest trendy dessert (this month its still cupcakes).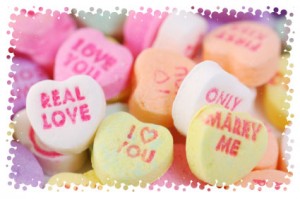 You can also fall back to Candy Hearts which I think where made 100 years ago (along with the United States supply of Halloween Candy Corn).