Ringling Bros. and Barnum & Bailey Present Barnum's Funundrum!
Mar 25 – Apr 4 at Madison Square Garden
PRESALE – ALL TICKETS 20% OFF!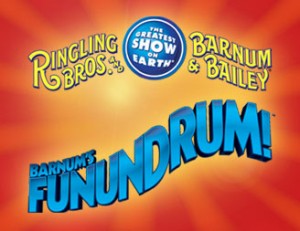 Promotion Code: HEFUN
Valid Dates: Jan 26 – Feb 7
Tickets starting at just $12.00!
SAVE 20% on ALL TICKETS (excluding VIP) when you purchase during the presale period.
Ringling Bros. and Barnum & Bailey® is roaring into town with Barnum's FUNundrum!SM, a celebration of P. T. Barnum so big, it is an event 200 years in the making! Hop aboard and go on an unbelievable excursion that brings together performers and characters from exotic countries all over the world–even from places for which there are no geographic borders. From the moment that you arrive, the momentum explodes as The Greatest Show On Earth® comes to life in a way that can only be inspired by the greatest showman who ever lived. Get your tickets today before this train leaves the station!
Must use code HEFUN to take advantage of this offer. Not valid on VIP tickets. 8 ticket limit per order. Service charges apply to phone and Internet orders. Offer subject to availability and not valid on previously purchased tickets. All sales are final – no refunds or exchanges. Offer may be revoked or modified at any time without notice. Offer expires Sunday, February 7, 2010.