10 Years — Then vs Now
I'm part of the Windows Champions program so I wanted to take a moment to celebrate the ten year anniversary of Windows XP and Office.  I could not get through my day without Windows and Office – and I'll fully admit it my main PC is still running XP Pro.  I'd love to say that I need to do much more now a days but fact is when windows xp came out I was in college doing a little bit of everything (which is very different then today).  These days I use Word, Outlook, Notepad, and once in a blue moon minesweeper 😛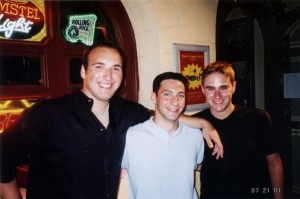 So the famous day that changed most of our lives was October 25, 2001 – I couldnt find a picture from Halloween of 2001 and sadly I havent a memory of what I even dressed up as.  I did find a photo from my 21st birthday that I shared with my two best/good friends Andrew and Steve.
I guess we've all changed since that time…
Where were you ten years ago?
Related Posts: