Just Dance 2 – Review and Giveaway!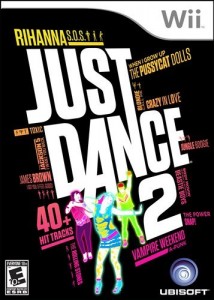 Just got to play a few hours worth Just Dance 2 [Amazon] after having played Just Dance Kids for a few weeks with Marc before we broke out Just Dance 2 I was thinking this was just going to be some updated songs, well its more then just that! Where in the kids version you're watching real actors/dancers here you're watching white people like shapes wearing funky costumes shaking it. Game has a very large soundtrack, which isnt just pop and top 40… so it does have some interesting choices I'll say that… but this version clearly has the ability to add on songs using the Wii Points and downloading them which means you can add dozens of extra tracks and they'll keep pumping new songs into the library too. Here's whats on the game out of box…
Just Dance 2 Tracklist
1.    Avril Lavigne – "Girlfriend"
2.    Bangles – "Walk Like An Egyptian"
3.    Beastie Boys – "Body Movin' (Fatboy Slim Remix)"
4.    Benny Benassi presents "The Biz" – "Satisfaction"
5.    Blondie – "Call Me"
6.    Bollywood – "Katti Kalandal"
7.    Boney M. – "Rasputin"
8.    Charleston – "Mugsy Baloney"
9.    Cher – "The Shoop Shoop Song (It's In His Kiss)"
10.    Digitalism – "Idealistic"
11.    Donna Summer – "Hot Stuff"
12.    Elvis Presley – "Viva Las Vegas"
13.    Fatboy Slim – "Rockafeller Skank"
14.    Franz Ferdinand – "Take Me Out"
15.    Harry Belafonte – "Jump In The Line"
16.    Ike & Tina Turner – "Proud Mary"
17.    James Brown – "I Got You (I Feel Good)"
18.    Jamiroquai – "Cosmic Girl"
19.    Junior Senior – "Move Your Feet"
20.    Justice – "D.A.N.C.E."
21.    Ke$ha – "TiK ToK"
22.    Mardi Gras – "Iko Iko"
23.    Marine Band – "Sway (Quien Sera)"
24.    MIKA – "Big Girl (You Are Beautiful)"
25.    Outkast – "Hey Ya!"
26.    Quincy Jones & His Orchestra – "Soul Bossa Nova"
27.    Reggaeton – "Baby Girl"
28.    Rihanna – "S.O.S."
29.    Snap! – "The Power"
30.    Sorcerer – "Dagomba"
31.    Studio Allstars – "Jump"
32.    Studio Musicians – "Crazy In Love"
33.    Studio Musicians – "Jungle Boogie"
34.    Supergrass – "Alright"
35.    The Frighteners – "Monster Mash"
36.    The Hit Crew – "Holiday"
37.    The Hit Crew – "Toxic"
38.    The Jackson 5 – "I Want You Back"
39.    The Pussycat Dolls – "When I Grow Up"
40.    The Rolling Stones – "Sympathy For The Devil (Fatboy Slim Remix)"
41.    The Ting Tings – "That's Not My Name"
42.    The Weather Girls – "It's Raining Men"
43.    Vampire Weekend – "A-Punk"
44.    Wham! – "Wake Me Up Before You Go Go"
I thought the game play was pretty fair and clearly this is totally a party game for 4 people as long as you have the space. My wife and I laughed at each other while we took turns dancing one at a time (yes, she kicked my ass every time!).
How to win it… Contest ends 11:59pm EST. January 15th, 2011.
You must comment telling us which song youwould rock out too? please include some method for us to contact you in the comment (twitter or email)
You get 1 extra entry for following us on twitter – twitter.com/dadarocks
You get 1 extra entry for following @ubisoft on twitter – twitter.com/ubisoft
You get 1 extra entry for tweeting about this contest (you can do this daily). Must contain the following information:
@ubisoft #JustDance2  @dadarocks – http://dad.tc/gKXacA #UbiChamps  and you must also comment with the link to your twitter message.
Example: I want to win @ubisoft #JustDance2 Thanks to @dadarocks – http://dad.tc/gKXacA #UbiChamps
You get 1 extra entry for becoming a Fan on facebook – facebook.com/dadarocks you must comment that you're a fan (and leave a little note on the wall)
You get 1 extra entry for subscribing to our Feedburner digest mailing (right side subscribe by email) – you must also comment that you've subscribed
You get 1 extra entry for becoming a friend on Google Connect (right side below facebook box) – you must also comment that you've become a friend
You will have 24 hours to reply before we pick another winner!
Disclaimer: Thanks to Ubisoft for the prize for this raffle. It's also limited to the USA too.
Related Posts: