Dads should get a trophy! Win an AMAZING trophy to give on Father's Day!
Being a dad is hard work, being a great dad is even harder work – there is so much juggling going on I feel like I'm in the circus from time to time.  Gotta balance the job/family/and your own sanity its a lot to handle.  When you think about what dad wants sure he could use a new fancy Kodak Playsport video camera [Amazon] that we can take in the pool with the kids but that's not enough give him something that he can have on his desk at work like a piece of art work.  Give him a TROPHY!
No not one of those silly little league trophies they give to everyone for being a good sport and not quitting the team, when they were benched for the coach's kid to get some extra playing time. I mean MAN TROPHY! I can already hear the sound of Tim Allen from his home improvement tv show of grrr grrr grrrr

you know what I'm talking about…
Check out this video – this thing is a beast!
FantasyTrophies.com [Link]  was founded by Dave Mitri, nearly 15 years ago, when he sculpted the Armchair Quarterback, for his own fantasy football league, out of his garage in Cleveland, Ohio.  He now produces trophies for nearly every fantasy related sport and has moved the operation to a shop in Brooklyn, NY where he continues to produce the highest quality, most original trophies for diehard fantasy sports fanatics.
The giveaway is this incredible trophy!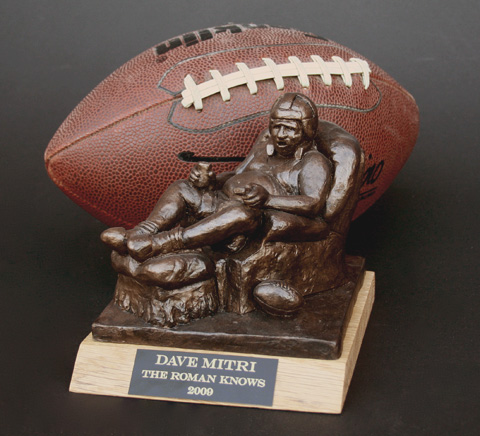 How to win it… Contest ends 11:59am EST. June 15, 2010.
You get 1 entry for placing a comment what would the plaque say and please use some method for us to contact you in the comment (twitter or email)
You get 1 extra entry for following us on twitter – twitter.com/dada_rocks
You get 1 extra entry for following FantasyTrphies on twitter – twitter.com/FantasyTrphies
You get 1 extra entry for tweeting about this contest (you can do this daily). Must contain the following information:
@FantasyTrphies @dada_rocks – http://bit.ly/cTxUWF  and you must also leave a comment with the link to your twitter message.
Example: I want to win a @FantasyTrphies for [person's first name] from @dada_rocks – http://bit.ly/cTxUWF
You get 1 extra entry for becoming a FAN on facebook –facebook.com/DaDaRocks you must a comment that you're a fan
You get 1 extra entry for becoming a Fan on facebook of FantasyTrophies.com – http://www.facebook.com/pages/FantasyTrophiescom/32938862386?ref=ts
you must a comment that you're a fan
You get 1 extra entry for subscribing to our Feedburner digest mailing (right side subscribe by email) – you must also comment that you've subscribed
You will have 12 hours to reply before we pick another winner and then make us miss the father's day shipping deadline.

Disclaimer: FantasyTrophines.com is providing this Trophy for the raffle.
Related Posts: